In a follow-up to my post from last week, there is one plus to fall. One thing no other season has.
Fall has the start of the new TV season.
I'm still not 100% sure what a room without a roof is supposed to feel like (free? limitless? a billion feet tall??) But I'm pretty sure Pharrell penned "Happy" for the fall TV season.

So here are a few of the shows I'm looking forward to:
The Middle
from IMDB: The daily mishaps of a married woman and her semi-dysfunctional family and their attempts to survive life in general in the city of Orson, Indiana.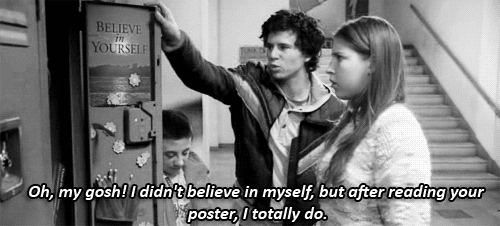 The Goldbergs
from Google: set in the 1980s, Adam uses a video camera to document his family's crazy life. His mother, Beverly, is overprotective and lacks boundaries, while his dad has a hot temper and finds it difficult to parent without screaming. Rounding out the clan are Adam's terrifying sister, Erica; his older brother, Barry, who has middle-child syndrome; and the family's beloved grandfather, Al "Pops" Solomon.

Modern Family
from Google: Told from the perspective of an unseen documentary filmmaker, the series offers an honest, often-hilarious perspective of family life.
(I'm not as into Modern Family as I used to be, but I still l watch, and it still has the best gifs.)
And of course my one guilty pleasure: singing competition shows.
What show are you looking forward to returning?? And if you're not into TV, is there any movie or album you're excited about??