So, this Tuesday is my 30th birthday. I'm really excited about it! Probaby because I already spent some time freaking out about it, so that's all out of my system. I realized freaking out is a waste of energy and kind of boring. It also can potentially cause premature lines. It's better to be excited! Plus I reached all my "Must Do Before 30" goals. Intern for Conan (check! although, let's be real: it's not like I could really do that after 30 haha), communicate with Lindsay Lohan via Twitter (double check!), write a book (check!), sign with dream agent (check!). It's hard to freak out when you can put concise little check marks next to your life list.
And I love concise little check marks.
When it comes to my birthday, it doesn't take a lot to make me over-the-top excited. Some new clothes, Hanson merch, and makeup is really all it takes to get me like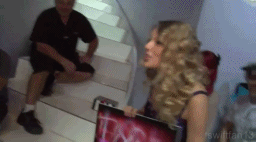 Add on the fact that I managed to pick up two pair of Mossimo jeans from Target last week, and I was like
I've always been drawn to Target jeans. They're super cute and affordable. But for some reason, I've never been able to figure out how to calculate their sizing.
If you're in a bad mood, I highly suggest staying far away from the Target dressing rooms. Even if you're in a good mood, steer clear. Because standing in there and trying to fit into their brand will put you in a bad mood. I have never had an ounce of luck in Target dressing rooms. The cut of all their jeans and shorts, combined with the huge mirrors and lighting is recipe for a tearful disaster.
But then back in May I fell in love with these cute striped shorts they had in bright pink. I knew once I tried them on, things would take a horrible nose dive. So I tried them on without actually looking in the fitting room mirror and went only by how they felt. Then when I got home, lo and behold, they looked really cute. This also worked last week for my new jeans. This is how I will only ever try on clothes from now on. It's a great system.
Next week, I'll be doing a birthday haul kind of blog post, like all the YouTubers do. I'm excited to play beauty guru for a day!