You only get your VERY FIRST BOOK DEAL once in your life, so it would be criminal not to go all out with a celebration, and a delicious meal is always my favorite way to go.
I used to be obsessed with the Food Network and loved to try my hand at cooking recipes. The problem with this is, as the years went on, the recipes got more challenging.
Then there's the fact that Food Network pretty much only airs competition shows these days, which I'm not a fan of. Plus, they're starting to recycle their own ideas, which is just lame.
So, with cooking out of the question, I knew exactly where I wanted to go for my big dinner.
(Sorry, Stefon, this one's not a club, but a Mexican restaurant called Besito.)
The food is very light and fresh, and the flavors and textures are just perfection every time. I've had a different dish nearly every time and each one has been outstanding.
Here are some pics of my meal:
such a shame that something so beautiful as tableside guac always looks unappealing in pics…but trust me it's amazing.
I loved the dish I tried this time! It's pistachio crusted salmon over a salad, with a side of chipotle dressing. SO good.
Cappuccino and Tres Leches cake. Normally I'm a chocolate lover and will always order chocolate for dessert, but this cake is SO good…just a simple, vanilla cake soaked in milk, with fresh whipped cream and berries.
By this point I was getting upset. I HATE the end of a great meal.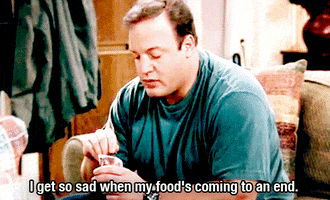 But! This place gives you a complimentary order of fresh, hot churros for the car ride home.
Sadly, due to my being overly full, and the trademark greasy nature of a churro, I didn't have one this time. 🙁  no regrets though! I ordered the perfect dishes (nothing sucks more than when you go out to eat and wish you'd ordered something else) and was very pleased with my food.
What's your go-to celebration meal??