Before I start I just have to say that when I wrote the title to this post I instantly remembered the Monica song, "Don't Take it Personal (Just One of Dem Days)" ! Anyone remember it?! Anyone also own the single back in the day??! I LOVED THIS SONG.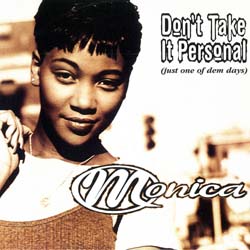 then thinking about this song reminded me of that duet Monica and Brandy did together, "The Boy Is Mine"!
And I really really liked this song for a while, and I loved this video! until it won the number one spot on MTV's Total Request Live EVERY DAY FOR MONTHS even though I voted for Hanson's "River" EVERY DAY FOR MONTHS.
River was such an adorable video!! The whole Titanic parody…
Where the hell was I going with all this??
oh yeah.
one thing that kind of surprised me when I first wrote a MS was how people assumed a character was about them. If I write about a brother or a mom or dad, a best friend, a grandparent or a boy band it doesn't mean I'm writing about MY brother or mom or dad, my best friend, grandparent or favorite boy band.
No. On all counts! It's one of those unexpected author things I never saw coming. One crazy line, one bad character habit and I'd have a very insulted person to explain myself to. Sometimes I'll take a significant trait and place it in a completely different character (ex: a habit from a friend might wind up as something the mother does), but besides, that everyone I write about is totally made up.
So, um, despite my horrible digressions in today's blog, has anyone else experienced this? Where a family member/friend takes things way too personally in your MS??