Terrified in a good way, of course.
Thanks to my friend Leandra for alerting me to this, I had no clue! AT FIRST BLUSH is on Goodreads! so you can add it to your TBR list if you want to! I'm so excited/nervous! I'm also in the process of claiming the author profile as moi, so I can edit it, add a pic, spruce up the book's description, etc. I have a personal GR but want to use this as my author one.
Add AT FIRST BLUSH on GR here!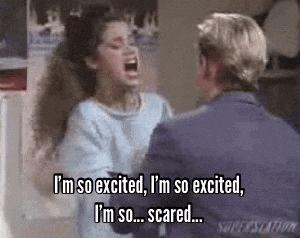 How did you feel the first time you saw your book on Goodreads? How do you anticipate you will feel when the day comes? It's WEIRD knowing people are going to be reading it!