so since these past couple of weeks I've experienced an unbelievably unpleasant change (loss of my precious Pudding) and a great one (welcoming my Penny Belle into the family) I thought it was time for a huge pick me up. And a change I could control. A new hair cut!
It's been about seven years since I've done anything new with my hair. When I was little it was waist length (my hair is extremely curly, so waist length only looked it when I straightened it). Then at about 12 I was inspired by this: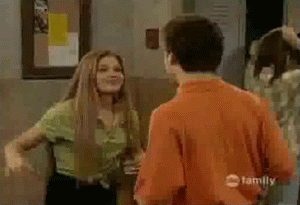 and spent the next few years asking my hairdressers to give me "The Topanga"–still long, but layered and stylish. Then in my early twenties I started going shoulder length (this was also my Blonde Highlights Era–an era I would like to publicly state here I will never return to again. Some people should not go blonde. I am one of those people).
When I was 24 I decided to grow it super long again. I needed a change–and a goal–and I went for it. For six years I've asked for the most minimal trims. It looked great for a long time, but lately it's been a hot, frizzy mess. I love my hair long, but when it's unmanageable and just plain yucky, it's gotta go. So on Tuesday I went and did this:
I love it! It's a lot easier to care for now and more styled. It's a bit longer than it appears in this pic since my hair was already curling up following the blow out.
I was inspired by Ingrid Nilsen (aka MissGlamorazzi on YouTube–my favorite YouTuber and the one who inspired me to write my novel!) she had very long hair and just cut it and I LOVED it.
I always feel like my hair will turn out better if I show a picture of my current hair role model to my hairdresser. I consider myself lucky that I've never done anything too awful. Even though the blonde didnt work out, it wasn't horrendous.
Have you ever made a huge hair change you absolutely hated???